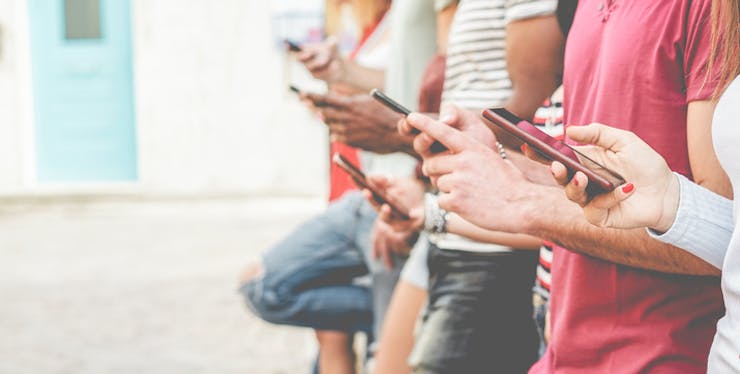 Increasingly, the term " mobile devices " is recurrent in our lives. They are devices of the most varied that offer different features for us to use on a daily basis. However, with so many different products popping up, we are often confused by the terms used to refer to them.
After all, what exactly are mobile devices? Is any computerized device a mobile device? What types are available on the market?
You can find out the answer to these and other questions by continuing to read this content!
What are mobile devices?
While "mobile devices" is somewhat of a broad concept, it is simple to understand what it refers to. In general, we can define it as any portable device that, through computing resources, performs functions and processes , such as: playing media, browsing the internet , accessing e-mail, GPS location, calculator, calendar, etc.
As we know, digital technologies have advanced a lot in recent years. Since computers became popular in the 1990s and 2000s, and with the wide access to the internet around the world, new devices have not stopped appearing to facilitate everyday tasks. These devices are commonly called mobile devices, or mobile devices .
The most well-known gadgets among mobile devices are smartphones . Accessing the internet from a portable device that combines several accessories was the big leap needed to give the necessary strength to the growing market of mobile technologies.
What are the types of mobile devices?
In principle, mobile devices could be divided into three categories: notebooks or portable computers, tablets and smartphones . This separation, however, became obsolete over time. Today we have many other types of mobile devices that people can access. See some examples below!
smartwatches
Smartwatches became more popular after the smartphone boom . Basically, these devices connect to the smartphone via Bluetooth to, in addition to marking the hours, facilitate access to functions such as calls, SMS's, social networks, etc.
Smartwatches have gained a lot of attention for models aimed at sports activities and exercise. These versions of the device have a heart monitor, step counter and other functions that help in the development of athletes.
smart speakers
Smart speakers , or smart speakers, are one of the most recent phenomena in the mobile device market. These devices well represent how artificial intelligence and the "internet of things" will become more common.
Basically, smart speakers are devices connected to the internet via a wireless network, capable of performing tasks through voice command interactions. Currently the most popular are the Echo models from Amazon and the Home models from Google.
These devices are capable of connecting with other smart devices such as smartphones, Smart TV's, switches and thermostats. sound systems etc., making it possible to control several devices in an environment in an integrated way.
Digital book readers
" Digital Book Readers" or E-readers are devices with a simple purpose: to allow users to search, buy, download and read books, magazines, newspapers and other materials in digital format through a connection to a wireless network.
The best-selling E-reader on the market is the Kindle, produced by Amazon. In the mobile device market, the biggest competitor of E-readers are tablets. But while one is dedicated to a single purpose, tablets perform a wider variety of functions , which makes them considerably more expensive.
How do mobile devices perform activities and processes?
Mobile devices, like desktop computers and notebooks, need an operating system to process and coordinate the tasks performed.
While Microsoft's Windows and Apple's macOS prevail in the computer market , among mobile devices the most used operating systems are:
Android ― Google;
iOS ― Apple;
Windows Mobile ― Microsoft;
RIM – BlackBerry;
Palm OS – Palm.
They are the operating systems that allow developers and programmers to create the various mobile applications , or Apps, that we have access to and use on our devices.
But, in addition to operating systems, we often also need access to mobile data to enjoy various functions of applications and mobile devices.
This mobile data is nothing more than the mobile internet connection that we can contract with different operators to use from anywhere without relying on a modem or access point. The first mobile data technology that became popular was 3G, but today we already find 4 and even 5G technology!
Thus, with the combination of data, mobile devices and operating systems, today we can enjoy various devices that make our lives easier and help us with everyday tasks.